Andrzej Loesch
PhD, DSc,, FSB
Professor of Medical Sciences

Visitor to Division of Medicine
Royal Free Campus
University College London,
Rowland Hill Street
London NW3 2PF, UK

Email: a.loesch@ucl.ac.uk aloesch@talktalk.net


Gallery 1
Vessel structure and cerebral endothelium
Click on the image for a large version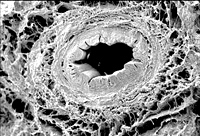 Scanning electron microscope (SEM) image showing a circumferential section through human saphenous vein with a pedicle of surrounding tissue harvested for bypass surgery by 'no-touch' technique introduced by Dr. DSR Souza of Örebro University Hospital, Örebro, Sweden. See Research page for brief project description.


Original magnification x35.
---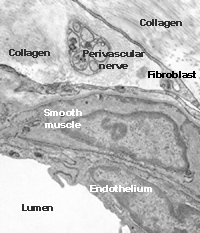 Transmission electron microscope (TEM) image demonstrates the main cell types involved in the build, and hence physiology, of the vascular wall: this scheme may apply both to arteries and veins. Here, an example of a coronary vessel (rat) shows vascular endothelium (intima), vascular smooth muscle (media) and autonomic perivascular nerves; the latter are located in the surrounding the vessel tissue (adventitia); Adventitia also consists fibroblasts together with collagen fibers. Perivascular nerves (axons), which in this case may be derived from the intra-cardiac ganglia, convey various types of synaptic vesicles (e.g. small agranular, and large and small granular vesicles). These vesicles contain a variety of transmitters/vasoactive agents (depending on the type of nerve), which when released from the nerve axon varicosity interact with the relevant receptor on vascular smooth muscle causing its relaxation or contraction (regulation of the vessel diameter and hence blood flow). For example, perivascular nerves deriving from intra-cardiac ganglia (intrinsic cardiac nervous system), may generate nitric oxide (NO) - a powerful vasorelaxant. A similar function may apply to vascular endothelium since it is the source of a variety of vasoactive agents including NO.
Original magnification x8000.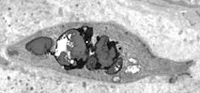 TEM image of smooth muscle cell of the middle cerebral artery from a Multiple System Atrophy sufferer. Note the accumulation of lipids (dark material) in the cell.
Original magnification x4000
---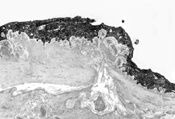 TEM image of human middle cerebral artery immuno-labelled for ET-1 (vasoconstrictor), demonstrates that the endothelium lining at the artery lumen is strongly immunoreactive for ET-1 (black stain). Methods: pre-embedding PAP technique with a polyclonal ET-1 antibody.

Original magnification x10000.
---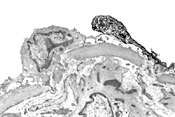 TEM image of human middle cerebral artery immunolabelled for SP shows one SP-positive (dark-blackish stained) and at least one SP-negative endothelial cell (lining at the artery lumen). Methods: pre-embedding PAP technique with a polyclonal SP antibody.

Original magnification x6000.
---