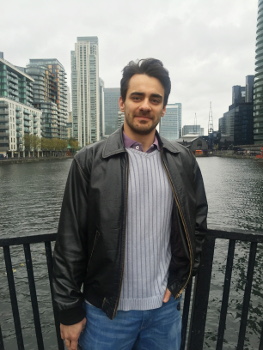 ---
Research
I work in the field of symplectic geometry. I spend most of my time thinking about the topology of Lagrangian submanifolds. Studying these usually involves understanding some invariants defined using holomorphic curves. These are also interesting in themselves and I quite enjoy finding out more about them.
Publications
M. Konstantinov, J. Smith, &nbsp Monotone Lagrangians in CPn of minimal Maslov number n + 1, preprint, 2018
M. Konstantinov, &nbsp Higher rank local systems in Lagrangian Floer Theory, preprint, 2017
To obtain some of the results in this paper I used Wolfram Mathematica 10.3. Here is the relevant code:

A programme for visualising the boundaries of Maslov 2 discs on the Chiang Lagrangian, lifted to the universal cover S3 (if your browser has the Wolfram CDF player, you can access an interactive version here).
A programme which does the linear algebra in the computation of Floer cohomology with local coefficients for the Chiang Lagrangian (for the entire notebook in CDF format click here).

G.Fuchsbauer, M.Konstantinov, K.Pietrzak, V.Rao, &nbspAdaptive Security For Constrained PRF's, Advances in Cryptology – ASIACRYPT 2014 pp 82-101
---
Teaching
In the Autumn of 2018 I am teaching tutorials at King's College for the Linear Algebra, Real Analysis 2 and Probability and Stats 2 modules. You can find some materials for Prob and Stats here .
---
Outreach
Whenever I get the time I quite like talking about maths. <!If for some reason you would like me to do that, please drop me an email.> Below are some past activities of mine along these lines.
"Meet your researcher" programme, UCL, 07 Feb 2017
Here are some slides from that talk giving a glimpse of symlectic topology. And here is an extended version with pictures of holomorphic curves.
Lecturer, mini-project supervisor; Uni-Link Summer Showcase in Mathematics, UCL, 25-27 Jul 2016
Lecturer, project supervisor; Summer Research School 2014, HSSIMI
<!This is a two-week programme for gifted students organised by the Institute of Mathematics and Informatics at the Bulgarian Academy of Sciences.>
---
Some visualisations
An open book decomposition of the 3 sphere with some Dehn twists: here.