Institructions: Click on morpotype image category below to generate taxa list at right.
Then select taxa to open images in a POP-UP viewing window. For best viewing you should arrange both windows on separate sides of your desktop. As shown in this screen shot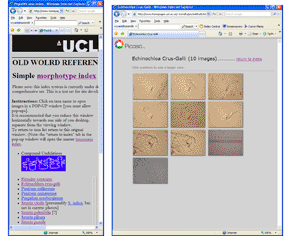 To return to taxa list return to original window. (Note: the "return to index" tab in the pop-up window will open the master taxonomic index.
Compound Undulations

simple, high amplitude, convex

Simple, medium amplitude,
wide, convex

Lobed, medium, convex

Irregular, flattened, medium amplitude, thick-walled
regular, flattened, low amplitude,
thick-walled
saddles

bilobes & crosses

bulliforms/ keystones

return to simple
taxonomic index

Website constructed and maintained by
Dorian Q Fuller
last updated 18 March 2007