Honorary Senior Lecturer, Dept. Visual Neuroscience

Faculty Investigator, Moorfields/IoO NIHR Biomedical Research Centre
email: m.nardini AT ucl.ac.uk
I am interested in visual, spatial and multisensory development. My research is based both at the UCL Institute of Ophthalmology and at the Psychology Dept at Durham University.

Visual development
Normal and abnormal development of retinal and cortical vision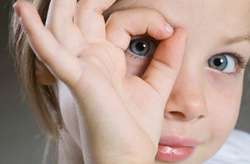 Multisensory development
How do we learn to combine sensory information sources?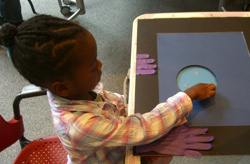 Spatial development
How do we learn to represent spatial locations in memory?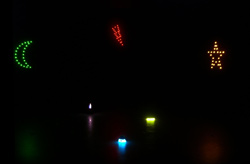 Lab members (UCL)
Eliza Burton - PhD student
Sara Garcia - PhD student
Alumni
Sarah Kalwarowsky
Rachel Fahy
Jennifer Bales
Alicia Remark
Collaborators
Prof Gary Rubin, Dr Michael Michaelides, Prof Robin Ali (UCL IoO)
Prof Janette Atkinson, Prof Oliver Braddick (Visual Development Unit, UCL / Oxford)
Prof Neil Burgess (UCL ICN)
Prof Denis Mareschal (Birkbeck CBCD)
Prof Martin Sereno (UCL PALS)
Dr Andrew Welchman (Cambridge)
Negen J, Nardini M (in press). Four-year-olds use a mixture of spatial reference frames. PLOS ONE
Jones PR, Kalwarowsky S, Braddick, O, Atkinson J, Nardini M (in press). Optimizing the rapid measurement of detection thresholds in infants. Journal of Vision.
Nardini M, Bales J, Mareschal D (in press). Integration of audio-visual information for spatial decisions in children and adults. Developmental Science.
Dekker T, Nardini M (in press). Risky visuomotor choices during rapid reaching in childhood. Developmental Science.
Petrini K, Jones P, Smith L, Nardini M (in press). Hearing where the eyes see: children use an irrelevant visual cue when localising sound. Child Development.
Bedford R, Pellicano E, Mareschal D, Nardini, M (2015). Flexible integration of visual cues in adolescents with autism spectrum disorder. Autism Research. doi:10.1002/aur.1509 [PDF]
Jones PR, Kalwarowsky S, Atkinson J, Braddick, O, Nardini M (2014). Automated measurement of resolution acuity in infants using remote eye-tracking. Investigative Ophthalmology & Visual Science 55(12): 8102-8110 [PDF]
Nardini M, Dekker T, Petrini K (2014). Crossmodal integration: a glimpse into the development of sensory remapping. Current Biology 24(11): R532-R534. [PDF]
Petrini K , Remark  A, Smith L, Nardini M (2014). When vision is not an option: children's integration of auditory and haptic information is suboptimal. Developmental Science 17(3): 376-387. [PDF]
Knight R, Piette CE, Page H, Walters D, Marozzi E, Nardini M, Stringer S, Jeffery KJ (2014). Weighted cue integration in the rodent head direction system. Phil. Trans. R. Soc. B 369: 20120512. doi:10.1098/rstb.2012.0512
Nardini M, Begus K, Mareschal D (2013). Multisensory uncertainty reduction for hand localization in children and adults. Journal of Experimental Psychology: Human Perception and Performance, 39(3): 773-787. [PDF]
Nardini M, Bedford R, Mareschal D (2010). Fusion of visual cues is not mandatory in children. Proc. Natl. Acad. Sci. U. S. A. 107(39), 17041-17046. [PDF]
Nardini M, Jones P, Bedford R, Braddick O (2008). Development of cue integration in human navigation. Current Biology, 18, 689-693. [PDF]