Baranowska Lecturer, Dept. Visual Neuroscience

Faculty Investigator, Moorfields/IoO NIHR Biomedical Research Centre
email: m.nardini AT ucl.ac.uk
I am interested in visual, spatial and multisensory development.
Visual development
Normal and abnormal development of retinal and cortical vision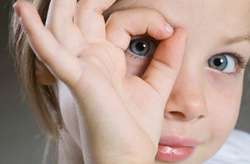 Multisensory development
How do we learn to combine sensory information sources?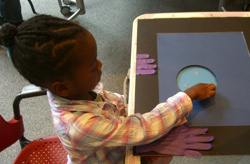 Spatial development
How do we learn to represent spatial locations in memory?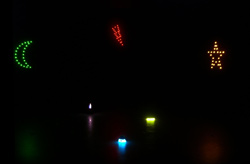 Collaborators
Prof Tony Moore, Prof Gary Rubin, Dr Michael Michaelides, Prof Robin Ali (UCL IoO)
Dr John Wattam-Bell, Prof Janette Atkinson, Prof Oliver Braddick (Visual Development Unit, UCL / Oxford)
Prof Neil Burgess (UCL ICN)
Prof Denis Mareschal (Birkbeck CBCD)
Prof Martin Sereno (UCL PALS)
Dr Andrew Welchman (Birmingham)
K Petrini, A Remark, L Smith, M Nardini (in press). When vision is not an option: children's integration of auditory and haptic information is suboptimal. Developmental Science.
R Knight, CE Piette, H Page, D Walters, E Marozzi, M Nardini, S Stringer, KJ Jeffery (2013).  Weighted cue integration in the rodent head direction system. Phil. Trans. R. Soc. B 369: 20120512. 10.1098/rstb.2012.0512
V Sundaram, C Wilde, J Aboshiha, J Cowing, C Han, CS Langlo, R Chana, AE Davidson, JW Bainbridge, RR Ali, A Dubra, G Rubin, AR Webster, AT Moore, M Nardini, J Carroll, M Michaelides (2013). Retinal Structure and Function in Achromatopsia: Implications for Gene Therapy. Ophthalmology 21 Oct 2013, 10.1016/j.ophtha.2013.08.017
M Nardini, K Begus, D Mareschal (2013). Multisensory uncertainty reduction for hand localization in children and adults. Journal of Experimental Psychology: Human Perception and Performance 39, 773-87. [PDF]
M Nardini & D Cowie (2012). The development of multisensory balance, locomotion, orientation and navigation. In Multisensory Development, A Bremner, D Lewkowicz & C Spence (Eds), Oxford University Press. [PDF]
M Nardini, R Bedford, D Mareschal (2010). Fusion of visual cues is not mandatory in children. Proc. Natl. Acad. Sci. U. S. A. 107 (39), 17041-17046. [PDF]

R Thomas, M Nardini, D Mareschal (2010). Interactions between "light-from-above" and convexity priors in visual development. Journal of Vision, 10(8):6. [PDF]

J Bullens, M Nardini, C F Doeller, O Braddick, A Postma, N Burgess. (2010). The role of landmarks and boundaries in the development of spatial memory. Developmental Science 13, 170-180. [PDF]

M Nardini, R Thomas, V Knowland, O, Braddick, J Atkinson (2009). A viewpoint-independent process for spatial reorientation. Cognition, 112, 241-248. [PDF]

M Nardini, P Jones, R Bedford, O Braddick (2008). Development of cue integration in human navigation. Current Biology, 18, 689-693. [PDF]